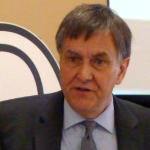 John Smeaton, President of the oldest prolife organization in the world, has accepted an invitation to give the keynote presentation at Embassy Suites, Independence, Ohio, on Saturday, March 7th 2015. Smeaton's work is recognized as being among the most important prolife-profamily efforts dealing with the threats to human life in Europe. The Society for the Protection of the Unborn Child (SPUC) is the "go-to" organization in the struggle to establish solid prolife-profamily education, legislation and media presence in Europe.
Smeaton's leadership during the recent Vatican's Synod on the Family culminated in the formation of "Voices of the Family" which he co-founded to bring attention to this most important event and to provide instant access to the discussions surrounding the Synod. Voices of the Family, with Smeaton's expert knowledge and leadership made sure that the world was familiar with the teachings of the Catholic Church regarding family life as evidenced by their publication of interviews with top Cardinals such as Cardinal Brandmüller, president emeritus of the Pontifical Committee for Historical Sciences.
Cleveland Right to Life used research and expert knowledge provided by SPUC to help formulate their improved mission statement in 2013.